Bundle wrapping with the ILW bundle wrapping machine can lower your packaging costs.
Bundle wrappers can be used to replace corrugated or chipboard boxes as well as provide basic protective packaging to larger individual products.  The ILW inline overwrapper is the latest addition to the PACKAGE line of easy to use, easy to changeover overwrapping machines. This machine can serve as
the overwrapper end of the line for primary packaging, what the consumer buys, or
 bundle wrapping for consumers in big box stores, or
secondary bundle wrapping machine for delivery to retail stores and replace corrugated boxes.
This last application has implications for reducing packaging costs, transportation weight and overall packaging requirements.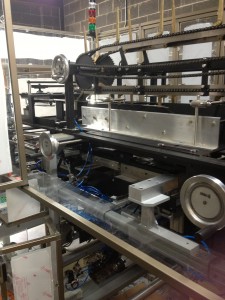 Modeled on our high-speed, high performance FA-ST, the ILW is a machine running midline speeds for larger products or bundles. Like the FA-ST, the ILW uses accurate programmable drives and servomotors to propel its major axes.
Will Wrap: Trays, cartons, and bundles.
Speeds up to 40 packs per minute, depending on product and application
Wrap Styles include Diamond  "Tuck & Fold" Overwrap (also called "cello wrap," "gift wrap," "cigarette wrap")
Learn more about different wrap style
To calculate the savings of switching from current intermediate packaging to bunding, look here.
Wrapping Media:
Clear or Printed BOPP
Glue Treated Paper
Waxed Paper
Cellophane
Options include tear tape and servo notcher, double roll of material with splicing table.  Collation of product is based on the bundle size and who it is coming to the machine.
Questions to answer before choosing a wrapping machine.
Read more on Bundling to reduce overall packaging.
Why Bundle? In Europe manufacturers are increasingly responsible for the waste associated with their products. It is happening in the United States and Canada too and will only grow.  Read more about Extended Producer Responsibility.